Located at:

The chapel is open with the following hours:

Monday - Saturday
6:00 PM - 9:00 PM
1865 West Curtis Street
Sunday
Services at 8:00 AM and 7:00 PM
---
The goal of Wind Break Chapel is to minister to our nation from a windy stretch of Wyoming highway. We desire to help others come to God and grow in their walk with the Lord. There are three basic groups of people that we have the potential to affect; professional drivers, travelers, and the Petro Truck Stop employees.
We hope to reach these mission fields with the following four core values:
Salvation — We want everyone who we come in contact with to know that they have a need because of their sin, God loves them, and God sent his son to die for their sins. Our hope is that they would respond by believing in Jesus Christ and calling upon him for salvation from their sin.
Relation — Christian life is not about fire insurance! We want to challenge Christians to have a personal relationship with their heavenly father. We strive to provide resources to help them grow in their relationship with Christ, and encourage them through preaching and Godly counsel.
Multiplication — As Christians we are called to spread the news about the free gift of salvation. We want to challenge Christians to be active in telling others about Christ.
Facilitation — We want to be a help to those in physical, emotional, or spiritual need when we are able.
Dan Lehman
Truckers Chapel Director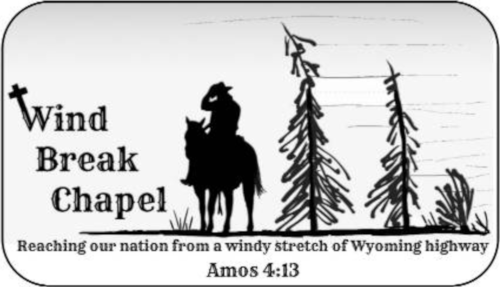 The first Truckers Christian Chapel was founded by Glenn Cope in 1987 in Dayton, Ohio. In 2019, there were 89 Trucker's Christian Chapels in 33 states located along our nation's highways. Truckers Christian Chapel was a partnership with local truck stops, a local church, and Truckers Christian Chapel Ministries.
Our ministry here in Laramie, was started in 1997 by Bro. Don Martin with services being held in the Petro TV room. In 2000, Trucker's Christian Chapel Ministries obtained and set a trailer at the Petro Truck stop which was powered by a generator Bro. Don would bring in his van. Later the trailer was moved to its current location and hooked into the truck stop's power.
In September of 2019, Trucker's Christian Chapel ministries merged with Transport for Christ Global. We discussed the move and decided to take the Chapel on as a ministry of Cornerstone Baptist Church. We needed a new name so after many tries the Wind Break Chapel was settled upon. We are basically the same chapel although we purposely have tried to move away from the "truckers" stigma as we want both travelers and professional drivers to feel at home in the chapel. See our
mission
.